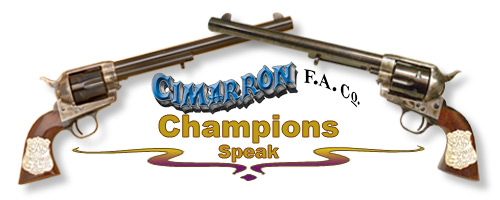 Evil Roy
Credentials:
-1995 World and National Modern Class Champion
-1998 Traditional Class World Champion
-2000 Overall National Champion
-2001 Overall World Champion
-2003 World and National Senior Class Champion
-2004 World and National Senior Class World Champion
-World Speed Pistol and Speed Shotgun, three time Couples and three time Family World Champion and Spirit of Game award with Wicked Felina and Holy Terror. Lots of regional and state overalls. Currently Regional and State Champion in my area.

As one of the all time top Cowboy Action Shooters in the U.S.A., Evil Roy has held National and World champion titles. His granddaughter, Holy Terror, also holds National and World championship titles in both youth and adult classes. His wife, Wicked Felina, is also a serious shooter. The family competes together in most SASS Regional, National and World championship matches. Evil Roy, Wicked Felina and Holy Terror are the '1st family of CAS'. Visit Evil Roy's website.

"Cimarron has high quality firearms and has made the commitment in time and money to develop and improve their line to help us stay on top in Cowboy Action Shooting." - Evil Roy
Evil Roy on Facebook See Evil Roy in action on video.

Pistol Packin' Paula
Pistol Packin' Paula is not just the girl next door. When Paula gets ready for her work, as a western entertainer, she grabs her nickel plated .45 Cimarrons instead of a briefcase. She twirls and shoots her two .45 Cimarron revolvers and is the only woman in the U.S. who twirls real guns professionally. Visit Pistol Packin' Paula's website.

Credentials:
-1994, The Wild West Arts Club in Las Vegas
-NV presented her with the International World Championship for her gun twirling
-1999, Wild Bill Hickok Days in Deadwood SD presented her with 3rd place for International World Championship Gun Spinning
-2003, The Wild West Arts Club in Las Vegas presented her with 2nd place again in the International
-World Championship Gun Spinning
-World Champion Gun Twirler twice in 2006 & 2009 View Paula's video.

My Movie, it is coming out in January called The Adventures Of Pepper and Paula. It is based on some of my life story. Cimarron is one of the sponsors of it and of course some of the clothing and guns were used in it especially my guns. Also I was on America's Got Talent in 2013 and of course using Cimarron's guns.
"I love to twirl Cimarrons because they are very balanced guns right off the shelf and they are very sturdy guns for shooting. But most of all, the people are very nice and friendly to deal with, especially the ones that do my fine tuning on my guns. So if you are looking for a well priced and durable gun Cimarron is the way to go!" -Pistol Packin' Paula

Jim Rodgers
Credentials:
- 1992 CMSA NATIONAL CHAMPION
- 1993 CMSA NATIONAL CHAMPION
- 1994 CMSA NATIONAL CHAMPION
- 1994 CMSA WORLD CHAMPION
- 1995 CMSA NATIONAL CHAMPION
- 1995 CMSA RESERVE WORLD CHAMPION
- 1996 CMSA NATIOANL CHAMPION
- 1996 CMSA RESERVE WORLD CHAMPION
- 1996 CMSA WORLD POINT CHAMPION
- 1997 CMSA RESERVE NATIONAL CHAMPION
- 1997 CMSA WORLD POINT CHAMPION
- 1998 SASS WORLD CHAMPION ALL-AROUND COWBOY
- 1998 CMSA WORLD POINT CHAMPION
- 1999 CMSA NATIONAL CHAMPION
- 2000 CMSA RESERVE NATIONAL CHAMPION
- 2000 CMSA NATIONAL TEAM CHAMPION
- 2002 CMSA NATIONAL HIGH POINT CHAMPION
- 2003 SASS WORLD MOUNTED SHOOTING CHAMPION

Jim Rogers' CMSA video - Jim Rogers website

"Cimarron Single Actions are at the top of my list for balance, reliability and authenticity. Attention to detail makes the Cimarron look and feel just like the originals of the late 1800s. They have all of the correct period markings, bevels, and millings. No other brand has this complete detail, not even Colt. I now compete with a pair of the new Stainless Steel Models. In my opinion they are the finest Competition Single Action available today." -Jim Rodgers

Phil Spangenberger
Phil Spangenberger has been a regular part of Guns & Ammo magazine for nearly 40 years. He served for more than two decades on this best-selling publication as a staff editor, feature writer, and Black Powder columnist. Now as a free-lancer, he serves as the Firearms Editor for True West magazine, contributing feature stories and his regular column, "Shooting From the Hip," which is devoted to covering original and replica firearms and related gear for Old West enthusiasts, classic arms collectors, and sports shooters. He also writes for other periodicals like Harris Publications' Guns of the Old West, and others. Having earned quite a following with single-action six-gunfans, Phil is considered as the man who inspired the exciting equestrian and shooting sport of Cowboy Mounted Shooting. As a founding member of this fast-action equestrian/shooting sport, he serves on the Board of Directors of the Cowboy Mounted Shooting Association, better known as the CMSA. The Spangenberger name has become a familiar one in the entertainment industry too. He's been featured as an on-camera interviewee in several top television programs such as The History Channel's "Tales Of The Gun," "Modern Marvels," and their popular "Wild West Tech" series, to name a few. In these and other shows, he has worked as a character actor and serves behind the scenes as well, functioning as a historical consultant and re-enactor coordinator, supplying authentic looking actors, horses, saddlery, and other props and equipment of the frontier era, helping give these productions a unique, authentic flavor. Phil has also performed as a fancy gun handler and mounted trick shooter in Wild West shows around the globe and has produced his own shows in the U.S. He's been a Hollywood gun coach to such stars as Will Smith, Mel Gibson, Charlton Heston, Freida Pinto and Ryan Kwanten, along with many other top screen actors. To Phil, the Old West is a way of life! View Phil's Cimarron interview video.

Credentials:
- 1997 CMSA World Top Division 4
- 1998 CMSA National Top Division 4
- Top Performance Horse and Rider award, while riding his buckskin quarter horse "Wyatt," at the Arizona State CMSA Championships in 1999.
-2005 Recipient of Hollywood's Golden Boot Award for lifetime achievement in Western film and entertainment
-2013 Recipient of the "Cowboy Keeper" Award for the National Day of the Cowboy celebration. Phill's info on IMDb

"In addition to the quality and reliability of Cimarron's guns, they possess a certain look and feel that says "Old West". Mike Harvey has always taken extra steps to capture more authenticity and that added flavor in his guns. To those of us that appreciate the"gen-u-wine" look of the frontier, Cimarron has got it right!" - Phil Spangenberger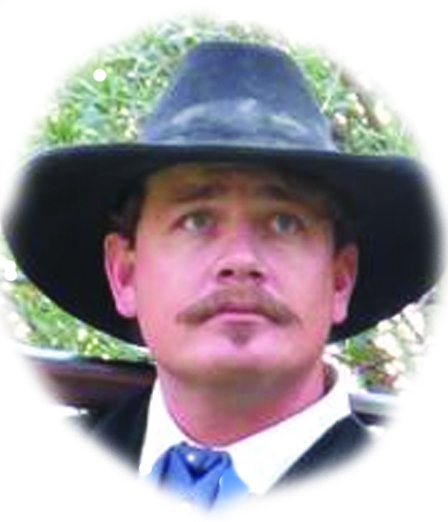 Clayton Marxer "The Adventure Cowboy"
Clayton Marxer is a genuine cowboy who comes from the high-mountain cattle country along the border of Montana and Idaho.
Clayton has been fascinated with firearms since he was a toddler. At age 7, he started hunting small game and varmints with a lever action Daisy BB gun, a passion which would develop in him over the years into what he is today. As a young man he was a member of the 4-H Shooting Sports program, and eventually won many tournaments and contests as a 4-position shooter. At the age of 12, Clayton started using the skills and knowledge, which he had developed as a competitive shooter, to begin his career of big-game hunting. Eventually, Clayton transitioned away from competition shooting, and focused his shooting and training on the hunting sport.
Clayton has has hunted with many different weapons over the years, and he appreciates the challenge that each type of weapon brings. Whether hunting with archery equipment, pistol, scoped rifle, or iron-sighted rifle, he loves the adventure. Of all of the weapons that Clayton uses, his favorite are the traditional cowboy guns that won the west. His main hunting rifle is a Cimarron "Billy Dixon" 1874 Sharps in 45-70.
Clayton recently was featured on a hit hunting TV show where he dropped an elk in it's tracks with a standing, off-hand shot at well over 200 yards away with his Cimarron Sharps. He is also an actor, stuntman, and assistant armorer on a western film series which is currently in production. His Cimarron "Billy Dixon" will be featured throughout the film, as well as, several other Cimarron firearms. The film series is currently set to release around July 4th, 2016.
Firearms are an important tool for Clayton. As a big-game hunting guide and an avid hunter himself, Clayton depends on firearms to function correctly and safely, often in extreme conditions. Over the years, he has seen virtually every type of rifle be used for hunting, and knows the value of a quality firearm first-hand. That is why he chooses Cimarron Firearms as his source for quality cowboy guns.
To learn more about Clayton, go to his website at
adventurecowboy.com
and follow "The Adventure Cowboy" on Facebook, Instagram, and Twitter (@theadventurecowboy).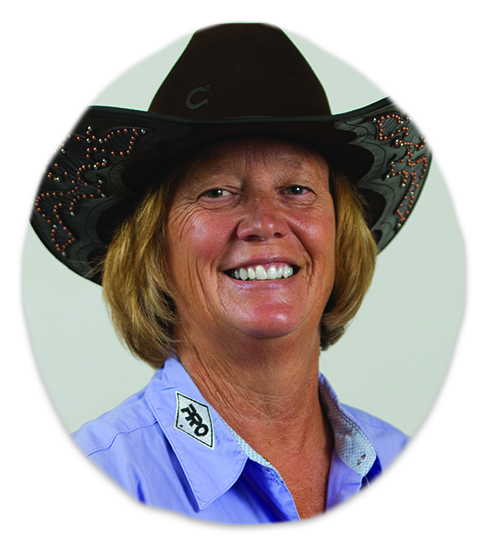 Diana Olson
Diana's life long love of horses started when she could first walk, leading around her imaginary horse on a string. She continued in 4-H with her first "real" horse Bambi. Diana started showing Appaloosa's in the early 80's. She has taken horses to National club championships and top 10 world titles. She campaigned her late stallion, Macado, to his superior title in Halter. She has competed in halter, western, english, trail and reining. In 2004 she competed in her first Mounted Shooting Match and the rest as the say is history. She has taken three horses to world titles in Mounted Shooting. Diana is a lifetime member of the Appaloosa Horse Club, National Reining Horse Association, Cowboy Mounted Shooters.

Credentials:
2005 (Omegaloosa Splash), CMSA Ladies level 2 World Champion. 2006 (Omegaloosa Splash)CMSA Ladies Level 4 World Champion Year end Top 10 in the NationSouthwestern Regional Year end Ladies overall ChampionArizona State Year end Overall Ladies ChampionMSA L4 World Champion 2007 (Omegaloosa Splash)CMSA Reserve World Champion SR Ladies 4ACMSA Year end overall SR L 4 Champion 2008 (Skat Olena)CMSA SR Ladies level 4 World ChampionSASS Western Nationals SR L4 Champion Southwestern Regional Year end Ladies Overall ChampionArizona State Year end Overall Ladies Champion2009 (Rusty/Magic)CMSA SR Ladies level 4 Desert Classic Champion and overall Sr LadySASS Western Nationals SR L4 Champion 2010 (Doc O)CMSA SR Ladies level 4 Desert Classic Champion and overall Sr LadyCMSA SR Ladies level 4 National Champion 2011 (Howdy)CMSA SR Ladies level 5 National Champion 2012 (Pistol)CMSA SR Ladies level 5 National ChampionCMSA SR Ladies level 5 Central ChampionCMSA SR Ladies level 5 Lone Star Classic ChampionOverall National High point SR Lady, Top 10 in the Nation LadySW Regional Overall Lady and AZ Overall Lady 2013 (Dude/Pistol)CMSA SR Ladies level 5 Winter Classic ChampionCMSA SL5 World Champion 2014 CMSA SR Ladies level 5 Winter Classic Champion (Overall Sr. Champion)CMSA AZ State Champion SL5 2015 CMSA SR Ladies level 5 Winter Classic Champion (Overall Sr. Champion)SW Regional Champion SL5 and Overall SR Champion
Diana owns and operates Omega Appaloosa Shooting Horses, where she trains mounted shooting horses and works with all levels of mounted shooting riders. Her motto is "Get Spotted at a Shoot!"
Copyright © 1998-2015 Cimarron Firearms Co. Inc. All graphics on this site belong solely to Cimarron Firearms Co. Inc. The use of any graphic on the site is strictly prohibited.